Wu-Tang Clan Live in Philadelphia: Celebrating 25 Years of Laughter & Tearz
Heading into a four-show, two-city (Philly/NYC) reunion "tour" billed as Wu-Tang Clan: 25 Years of 36 Chambers might make you wonder, has it really been a whole quarter-century since Enter the Wu-Tang (36 Chambers) first brought da ruckus?
Actually, it's been longer, considering that seminal debut dropped in November '93, while their introductory single "Protect Ya Neck" broke thru in December '92.
There had been more elaborate plans to celebrate The Wu's 25th Anniversary last year (a box set, a world tour, a documentary), but Wu-Tang being Wu-Tang, disparate schedules and agendas for its nine-turned-eight (or now ten plus, depending who you ask) members, resulted in these four reunited shows marking the date fashionably late, much like the group was guaranteed to be compared to the shows' advertised ticket time.
Thursday night in Philly was not even part of the initial plan for this run.
A show was scheduled Friday in Philly at The Electric Factory, now called Franklin Music Hall for seemingly no reason at all, then Saturday at Terminal 5 in New York City.
Both shows, selling out almost immediately, resulted in The Clan doubling down by adding two shows on the front and back end: Thursday in Philly, and Sunday in NYC.
My potential cohorts and I missed the initial Friday night sale window, but decided to get in on the newly added opening "tour" night, putting together a solid crew on the fly.
Once the plan to catch the Clan was in motion, there was no stopping us…rush-hour rides up I-95 from Baltimore, positively frigid conditions, flat tires on the whip discovered just before the Ben Franklin Bridge, the prerequisite Philly parking problems, unhelpful event staff, crowds, along with crossed-wire meet-up spots, be damned.
"This is a gathering of the masses who come to pay respect to The Wu-Tang Clan."

Arriving onstage at 10:08, technically late but relatively early, they got down to business with the "Shaolin Shadowboxing" clip, as RZA entered barking"Bring Da Ruckus", before Ghostface announced his presence, instructing you "catch the blast of a hype verse…".
In customary fashion, the stage began to fill up from there, with an increasing number of Clansmen on an as-needed basis, so that by the fourth song, "Wu-Tang: Seventh Chamber", the full group (minus, of course, the late-great Ol' Dirty Bastard) was in tow.
And aside from taking a slight detour into "Winter Warz" to showcase Cappadonna, famously not present on the Wu's first album but crucial on The Purple Tape plus all Wu albums going forward, the Clan opened up shop with the entire 36 Chambers.
While that alone would've sufficed, this re-formed-like-Voltron rap organism, filled to the brim with Witty Unpredictable Talent And Natural Game, was poised to rock it to the dawn's early light with this headbanger boogie, while representing this shit fully.
On many different levels, sports and commerce among them, the former nation's capital of Philly, has spent the past couple centuries at war with New York as the town's bully.
But when it comes to iconic entertainment hailing from the Big Apple, Philly has always been the most critical proving ground where any New York act, from Howard Stern to Jay-Z, must first get blessed, before spreading their wings across the rest of the U.S.
For the Wu, a Staten Island band of brothers performing in the City of Brotherly Love for the first time since the beginning of the decade, this is and was especially true. The RZA said as much from the stage, within minutes of being on it, on Thursday night. Philly support became a theme echoed throughout the evening. For those old enough to recall an era when a brick-and-mortar Wu Wear shop once shared the same South Street block as the Reebok store with a two-story AI mural, we already knew this to be fact.
The second half of the show featured an array of hits, deep cuts, plus solo Wu favorites.
The fact that none of those selections were released after the year 2000 spoke volumes.
The Wu has shown flashes of brilliance, in fragmented ways, and in small doses, since.
But 25 years later, in situations like these, they can trim the fat, go all in together now, celebrate being here with old heads, plus show newbies how it used to be.
Doing that damn sure beats the alternative.
On razor-sharp nights like this, are The Wu still the most unfuckwitable crew there is?
Only a fool wouldn't answer in the affirmative.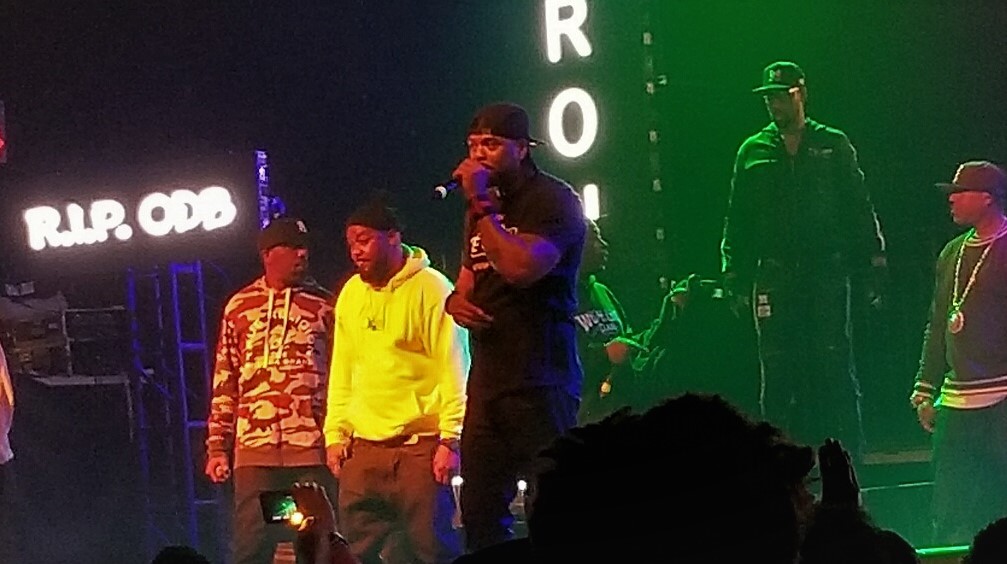 25 Years of 36 Chambers Live in Philadelphia 1/24/19
Things still likely to be seen at a Wu-Tang show:
W's

A 2-to-1 guy-to-girl ratio

RZA directing traffic onstage with a bottle of top-shelf liquor in his hand

Meth stage-diving/crowd-surfing, in the process losing a shoe or damaging an article of clothing, but acting surprised about it.

Raekwon complaining about the sound or his mic volume.

At least one or more other Wu members complaining about the venue, lighting, or level of crowd participation.

Late Onstage Arrivals
Five Deadly Venoms:
"Protect Ya Neck"…Though they were mostly faithful to 36 Chambers original order, it was a nice bit of pacing to bump this to the end of the Enter the Wu-Tang portion of the set. After "Tearz", RZA even did the fake wrap-up move, saying "we didn't forget nothing on there, did we?", before the entire Clan took turns on the cut that birthed the movement fans still salute nearly three decades later. "Again, and Again and Again".
"Duel of the Iron Mic". Man, that minor key piano loop sounds even more propulsive live. GZA's verse is filled with quotables of course, but I almost forgot how hard Masta Killa bodies this one. A sincere note to any and all ladies in my vicinity whenever hearing this live, I hereby apologize, for all past transgressions, or future crimes, but when Deck spits that "bitches caught in airports, keys in they vaginas" line right before the return of the drums? I must involuntarily shout that one at the top of my lungs.
"Black Jesus". The title truly fits, because this beat is some biblical shit. U-God's verse is one of his finest hours on record, and proved to be his highlight on this night. Meanwhile, the track sent many other Clansmen not originally on this swinging their swords, into a full-scale cypher that might not have been on the pre-show setlist.
"Bring the Pain". Never gets old. Meth's eponymous single, I can take or leave. But this song, particularly while Meth is on his back bouncing atop of raised hands across a crowd, holding a mic and asking if it's really real? Yessir, this song remains that deal.
"Reunited". And it feels so good. But ayo, did they actually perform "Severe Punishment"?!? That's a first so I gotta sneak that in here too. This was a show that could satiate the casual fan (shout-out to Chef Dan) but still keep Wu diehards on their toes.


Dart-by-Dart Individual Performance Chart:
Method Man:
One of the best live performers in the history of rap. That, and his inimitably melodious gravel-tone, a gift of a voice that he claims can tickle his own throat when he talks, puts him in the Wu's top-dog spot. When it comes to his catalog? Probably not.
But any time he takes a stage, Meth is poetry in motion, giving you everything he's got. As for his playful taunts about Philadelphia, even weighing in on the controversy surrounding Nick Foles and Carson Wentz, plus ending the show by telling us one of them would soon win a Bowl with the Giants? Only Meth can get away with that shit.
Soooooo…Represent.
GZA:
Never as impactful as he is on record. I say that respectfully, because GZA has never been an energy dude, showman, or someone who got over on voice or star quality. GZA is The Genius, the thinker, the chess player, the lyricist. The presentation is secondary, as unfortunately are the beats and the hooks if he doesn't have someone who understands him like Prime RZA lacing him up right. He's also the oldest in a group whose age is now (according to Method Man onstage) "an average of 48".
Ghostface:
In fine form all night. The gaudy gold Eagle ornament atop his comically large bracelet may have been melted down long before these reunion shows came around, but Ghost still made sure you still couldn't miss him, in a neon-yellow hoodie that managed to reflect in the light onstage, swinging swords with take-your-head-off energy.
Raekwon:
The General laid back in the cut a lot, much like he did on Wu's underrated Tiny Desk performance with half this cast. He was crucial in spots, made a few complaints about sound and lights that nobody would have noticed otherwise. He also didn't quite stick the landing on "Triumph". This could be because the DJ (I'm guessing Mathematics) did the drop-out-a-capella-then-come-back-in-half-way-thru-the-verse move. That works for a Masta Killa verse. In fact, it's damn near necessary. But Rae's whole style is the way his impeccable voice and flow melt like butter across a marvelous track. By the time he got to the "Rod Strickland" dismount, a classic posse cut had nearly petered out, making "Gravel Pit" and its Spy Hunter arcade-sounding beat feel like a welcome respite, even if it's probably not in the same tier as a Wu-Banger.
Young Dirty Bastard:
I'd heard complaints about Dirty's son's involvement (HBD, NASOOTEE). I had no problem with it. Let this kid keep Wu-Tang money all up in the family. YDB, Lil Baby Jesus, or whatever you want to call him repped for his pop's energy, likeness, plus has a vocal tone that at times sounds eerily similar. But Meth and Ghost often took the reins on Dirty's parts, while YDB did hooks on a couple of Dirty's biggest singles ("Shimmy Shimmy Ya" and "Got Your Money") while letting his father's voice on backing track carry the verses to those songs.
My old tag whenever saluting the late great Russell Jones aka Ason Unique aka Ol' Dirty Bastard aka ODB aka Big Baby Jesus aka Dirt McGirt was"there was no father to his style and there shall be no son". That sentiment remains the same, even while in the presence of one, who looks and sounds like 'em.
Masta Killa:
It's crazy to think the first rhyme he ever wrote was "Chessboxing", because it remains a show-stopper. He's almost more like a spoken-word artist than a spitter in the natural sense when it comes to his swordplay, but he proves more and more vital as time goes by, while his big lines are ones that has the crowd shouting it out with him.
U-God:
<<<These eight lines might be the world's hardest opening eight bars.
I have less to say in a positive way about his solo career, or his first solo album's lead single "Bizarre". Still, U-God is more important to the team than they, or at least RZA, believe. And when he hit us later on "Black Jesus", Golden Arms showed us the power his mic presence could achieve.
Inspectah Deck:

One of the most consistent rippers of a microphone.
Chrome-dipped lyrics are known to split stone.
If RZA's basement hadn't flooded, thus shelving his '96 solo, Deck's legacy is likely in an entirely different zone.
Even today, his sharp sword on CZARFACE projects can span the universe and return to Earth to claim his throne.
I can't really say all that much about his performance in this particular show, except to say that every time he rhymed, the rest of the Clan smilingly looked on, basking in the glow of a truth that only they truly know.

RZA:
The leader of this tribe is like a carnival barker at times, addressing the audience while directing them to the next amazing feat. Yet he can also control a crowd with his own mic presence. But he never really came all the way back from the whole Bobby Digital thing. And his movie career, while admirable in the sense that he has to be the only musical mastermind who went on to direct a studio film at some time, has also caused him to drift from what he does best. That being said, the fact that The Wu is even here after 25 years, with a four-part Showtime documentary detailing their lives and career, is a testament to The Abbott's Five Year Plan being a miraculous success.
Cappadonna:
Regardless of not being "official" when they debuted, "Winter Warz" is Wu cannon, so it was a fly way of introducing him and giving Donna something to do during the first half of the show. Later Ghost and Rae material, like "Ice Cream" and "Fish", gave him room to serve up another dish.
Street Life:
I woulda loved to be a fly on the wall during negotiations for these reunion shows, with Meth saying things like "Street Life needs at least two verses", or knowing what Wu members thought when Meth crow-barred Street Life's name into the famous rundown on 36 Chambers. C'mon, Dawg. We were all there. And if Streetlife was back then, he wasn't on the records, so you're not gonna convince us to care. But props to Meth, I guess, for staying loyal to his dawg. Meth is a crucial enough presence in The Wu, no need to begrudge him an indulgence.
The show ended shortly after midnight, but with that Killer Bee buzz, it didn't feel right to call an end to the night.
Many thanks to Silk City Diner, for letting us do the after-party thing right.
And much love to the crew: Doctor J, Root of All Evil, Skip Shady, Souse Dawg, Toad, Wendy, Chef Rull and anyone else we came across who filled up balloons, or passed anything else over to be consumed while these DAWGS did our best to represent WU.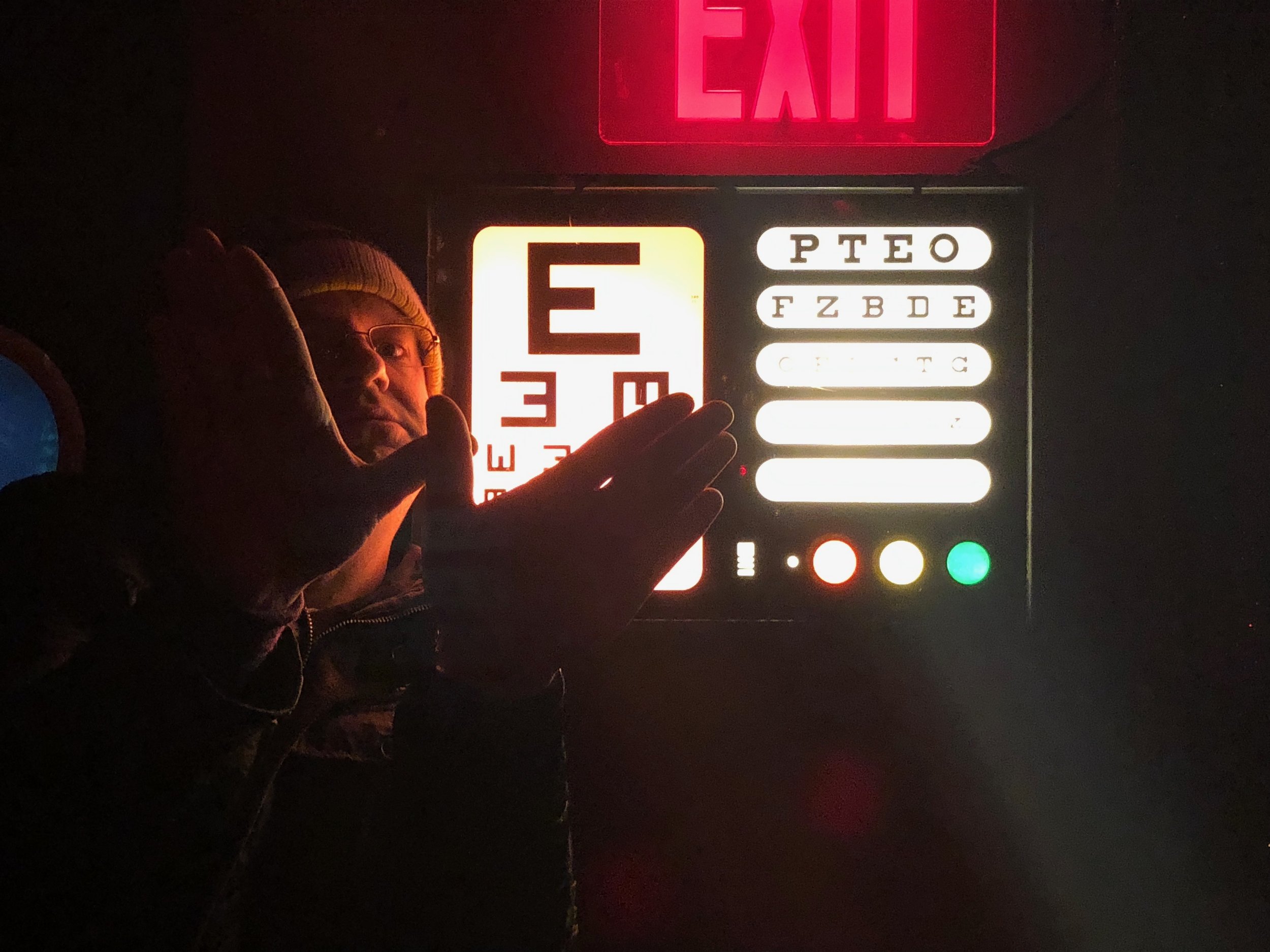 Can you read the largest letter on this eye chart?
Originally published on #ThatSite as Bombastic, February 5th, 2011


Subject: "Anybody Who Doesn't Understand Dirty Was A Great MC Can Eat A Dick"


A lotta y'all got it fucked up with all the craziness but there's a reason the Wu never recovered from his descent into addiction, imprisonment, and later death.

You think Russell Jones was just up there fuckin' around & doing dumb shit?

Yet was the focal point onstage for the greatest collective of MCs in rap history?

And any album he actually put his name on during his life happened to be on point?

C'mon baby baby c'mon baby baby C'MOOOON.

Dude was an essential ingredient.

There truly was no father to his style.

Watch the way he carries this Wu show in '97 in Amsterdam (well, he and Meth, a true beast onstage even if his albums have not measured up).

I don't know where GZA, Deck, Ghost, or Rae were for this one.

But then again it was the Wu-Tang Clan...in Amsterdam.

Still, somehow, the Dirt Dog rocked this club in coherence.

You can start here:
But that's the 3rd out of 5 from some Dutch live TV special they were doing on the Wu at the time (whut up, Nic!).

The whole show is worth watching:

I miss this dude.
With that said, allow me to provide one of my favorite live TV moments of Ol' Dirty:
Juxtaposed with the tale of a good deed.
The world remains a far less interesting place to be without ODB.